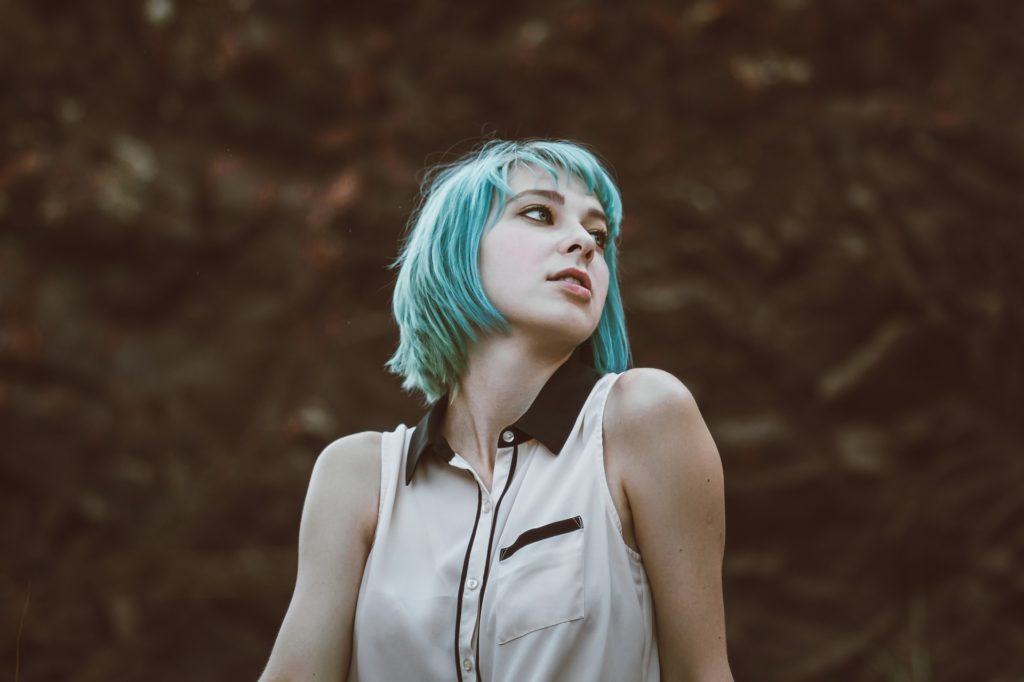 Short hairstyles for round faces are so cute and stylish this season.  If you have a round or oval shaped face, you might be stumped as to what hairstyle is flattering You don't want a look that will make your face look even rounder. You would prefer a look that will help narrow out and elongate your face. Round faces are very attractive and you want to make sure that you get a cute cut that will show off your gorgeous eyes and facial features!
Short haircuts can really liven up your look and enhance your facial features, eye color and gorgeous skin tone and hair texture.
We have compiled a gallery of some of the trendiest short haircuts for round faces to inspire you to go short! You can even experiment with different styles and colors for a bold new look that will turn heads when you walk into a room! Check them out and don't forget to pin your favorites to show your stylist when you are ready for a fun new look!
10 Sassy Short Hairstyles for Round Faces
Pink Long Asymmetrical Bob
This funky bob is super trendy if you want to go a look that shows your punk rock side. the cotton candy pink color is not only feminine and chic but it has a bit of an edge. With shorter layers in the back and longer in the front and shorter on one side, this cut will help elongate your face and also a bit mischievous and fun!
Blonde and Brown Balayage Tousled Layers
This blonde and brown balayage blend is soft and feminine. It's the perfect look if you want to try a new color without going over the top. The choppy layers add a ton of volume and fullness while the blend of colors adds plenty of texture and dimension. This look is fun and flirty if you want a more youthful vibe.
Platinum Blonde Longer Pixie
Ready to go super short? This cute long pixie will certainly help even out your oval or round face. The pale blonde color is just striking and the slight uneven layers gives this sassy cut a youthful, vampy vibe.
Pink Punk Pixie
Ready to take sexy and sassy to a whole new level? This pixie with long bangs that hide your eyes and frame your face is seductive and mysterious. If you want to embrace your inner punk rocker chick, this look was made just for you. The soft pink shade is so pretty and will simmer like satin in the sunlight!
Salt and Pepper Angled Short Bob
Silver hair is all the rage now and this sassy salt and pepper bob is no exception. The silvery tones are super shiny and sleek. The dramatic angled bob is very sophisticated and chic if you want a look thats grown up and still sexy.
6. Brunette Bob with Soft Caramel Highlights
This haircut is too hot to trot! The slightly shorter layers add some fullness to this sexy short bob. And the subtle caramel colored highlights look so pretty on the chocolatey brown base. This look says you mean business but also have a softer side!
Bronze symmetrical Cut
Want to give off a mischievous and playful vibe? This coppery blonde color is perfect for the vixen who wants to seduce her mate. The asymmetrical, tousled cut is flirty and mysterious and gives off a totally seductive vibe. If you want to stop 'em dead in their tracks, you need to try this sexy short style immediately!
Super Short and Sassy Pixie
This super short pixie is too adorable for words. The short uneven fringe is super cute and will help even out the shape of your face. Its super feminine and very chic if you are feeling bold enough to go this short! The coppery red tones give this an impish look that no man will be able to resist!
9. Short and Vampy Pixie
Here is another super short and sexy style. Are you feeling vampy? This deep darkest black will give off a sexy vampy vibe. The side part is fun and playful and the slightly unkempt bedhead look will drive men wild!
Short and Sleek Pixie for a Polished Super Cute Look
We leave you with another super cute short cut. This pixie is a bit more polished and refined than the previous two. However, it still has some sass and spunk if you want to give off a fun and playful vibe. The pretty chocolate brown color is really stunning. Part your hair to one side to add some length and volume to this sexy short hairdo!
 Aren't these short hairstyles for round faces super cute? Are you feeling inspired to go for a bold new look?